Looking a solution to recover deleted photos from Google Photos why? Because we all know that photo is an important part of your life because after some days photo reminds all your past days. But sometimes we get lost due to small mistakes or wrongly delete from computer and mobile which is in your drive, online folder or Google photos. And after some time we feel that the deleted photo was very important for you. Now we need to recover all those photos and we try to find different techniques to retrieve our photos.
Don't need to panic, this is a related post of Photo recovery which will help you in getting your photos back from Google Photos.
Possible Reason of Photographs Deletion:-
Free service or accidentally deleted.
Virus attack
Synchronization failed.
Multiple users of a single account
Share id and password on social sites
Hacked
How to Recover Deleted Photographs from Google Photo?
If you have a backup of pictures in the Google Photos application, you can recover it within 60 days because Google Photos offers the option to recover all photos from the Trash folder within a certain time.
Condition NO. 1
Pics are deleted from Computer:- If you deleted the photos using the Delete button then you can get the photos in the Recycle bin. But if pics are deleted by Shift + Delete button then you can get it through Google Photos, but you must have a backup of photos in Google Photos. To recover all photo follow below options:-
1:- First of you needs to log-in Gmail account by which you want to takes backup.
2:- Now Click on Google Apps top right corner and choose Photo application.
3:- Now select Main Menu top right corner >> click on Trash option.
4:- Now choose the image which you want to restore.
5:- Click on Restore button.
Condition NO. 2
Pictures are deleted from Phone:-  If you delete pics from the Phone and want to recover from there, then here you can also recover photos by using Google Photo App. But as I already inform that to recover pics user have a backup of Pictures in Google Photo App. If you have a backup, follow these below options:-
1:- Take your phone & Open Google Photo Application.
2:- Click on the top-left icon "Main Menu".
3:- Hit on Bin/ Trash Option.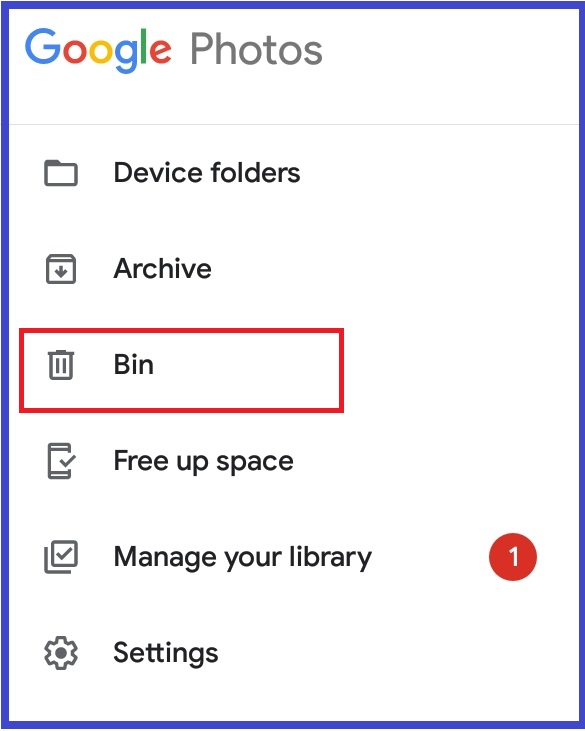 4:- Select the Photographs which you want to restore.
5:- Click on Restore button to restore your all data.
6:- Now all the photos will restore in your mobile gallery.
Condition No. 3
Photo is deleted from Trash folder of Google Photo:-
If you are unable to see your photos in Trash folder, it means that your photos have been permanently deleted from Google Photos. There is no chance to recover your photo now, but you can contact with Google support team to recover your photo. For this,
1:- https://support.google.com/drive/gethelp o search browser.
2:- Describe your problem in First & Second Option.
3:- In third, you can choose Get a call, Chat or Email option to contact with Google.
4:- After completing this, a Google Support Executive will contact with you as soon as possible.
Final Word:- The above steps help you recover deleted photos from Google Photos in three different ways. If you still have not been able to find a solution to recover lost/deleted photos, you can follow the above instructions.
Also Read: Free Solution to Convert OST to Outlook PST Format