Microsoft Outlook is the best-known email client for managing and sharing emails and notifications from one to another because it includes some additional features that are rarely seen in other email clients. In other words, because of its popularity and high data security, most users prefer to use MS Outlook. Here the user can access various email server accounts at a time. In Outlook, users can also do other things like managing the calendar, store name and number in the contact, creating and tracking various tasks and more.
Outlook file format: OST & PST
OST file is an offline folder created by MS Outlook and exchange server to hold offline copies of everything that exists in the Exchange server. OST file allows users to work when they are offline means not connected with the exchange server.
PST file is a personal file or folder which can be used to store the MS Outlook file in locally.  PST files can be stored anywhere in your local hard drive. When user configure their email account by using POP3 server or IMAP Server (For Outlook 2010 & above version), PST file is created.
Why did users need to transfer OST file into PST file format?
1:- To import OST file one to another Outlook, firstly user needs to convert OST file into PST because Users can't directly import OST file into Outlook.
2:- When the Exchange server crashes down due to virus attack, sudden system shutdown, or any other reason, the user will not use the OST file again without converting in PST file format.
3:- When exchange server downtime or goes for maintenance.
4:- After recovering corrupted OST file users need to convert OST file into Outlook PST file format to import data into Outlook.
How user convert OST file into PST file format?
If you want to convert OST file to Outlook PST format then you have two types of methods available.
1:- Free Method     2:- Technical and easy method
1:- Free Method to Convert OST file into Microsoft PST file format
Here I am describing three manual techniques for OST to PST Conversion. All free techniques have their pros/cons as well as it can provide better results so let's know all the processes.
A: Export Mailbox as a PST file:
1:- Open MS Outlook and choose to "File" tab.
2:- Go to "Open and Export" & hit on the "Import/Export tool" option.
3:- Choose "Export to a file" and hit on "Next".
4:- Choose "Outlook data file" and click on the "Next" button.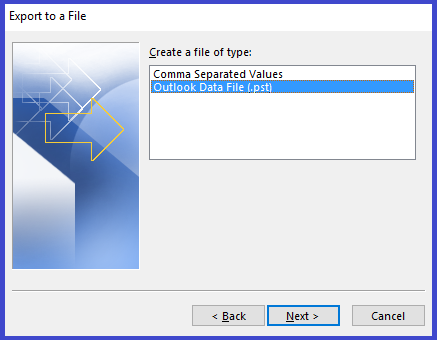 5:- Now select the folder or mailbox which the user wants to export and hit on Next.
6:- Click on the Browse button to provide the destination location of the Converted PST file. Along with this choose "Do not export duplicate items" option and hit on finish.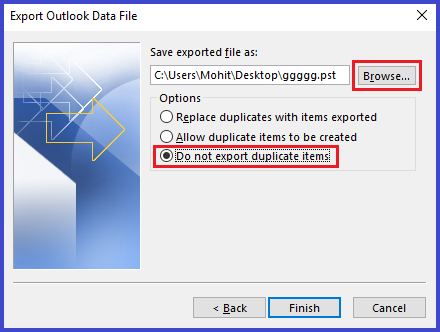 B: Auto-Archive Method:
Using Auto Archive feature users can get OST files into Outlook PST format. Because Auto Archive provides the option to save old OST data files into an archive folder as a PST file.
If users enable this option then he got OST file in PST format. To know how to enable this option follows below options:-
1:- In MS Outlook go to file option and choose the "Option" tab.
2:- Now select Advance option and hit on the "Auto Archive Setting" button.
3:- In AutoArchive dialog box choose select "Run AutoArchive every _ _ _days" and provide a day in which users want to run auto-archiving.
4:- Click on "Browse" button to give the location to save the Archiving PST file. Finally, click on OK tab.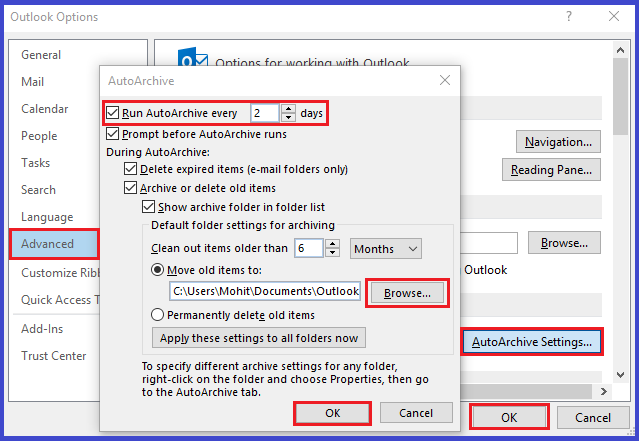 C: Drag & Drop Method:
This is a third and last freeware method to convert ost to pst format. The drag and drop method is also called an easy process but takes a lot of time.
1:- In Microsoft Outlook go to the "Home" option.
2:- In New Items option choose More Items and hit in Outlook data file.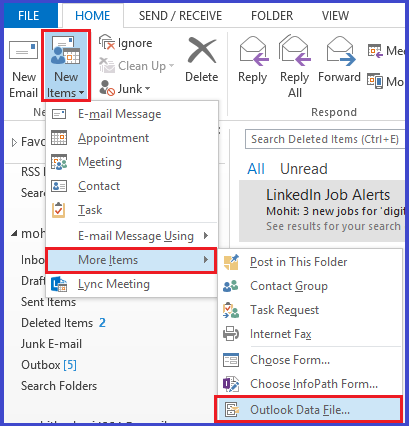 3:- Here provide the name and storage location of this mailbox which will store the data as PST file.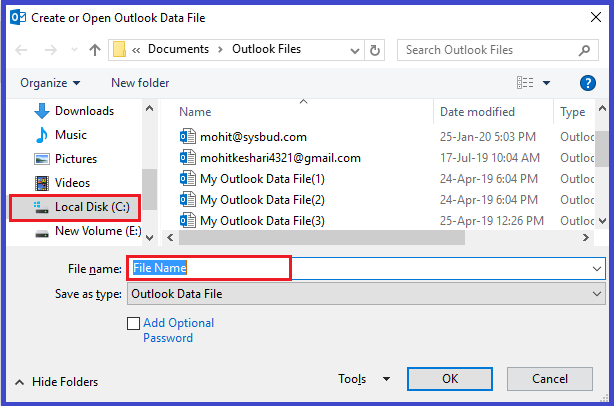 4:- Now using Drag & Drop method copy all emails which you want to move into PST file and pest it into the newly created mailbox folder.
Cons of Free Method: Free method is good but it has some drawbacks, like:-
1:- Need to more technical knowledge to follow any manual process.
2:- The user will need patience and lots of time to complete all the steps one by one.
3:- There are also chances of data loss if users have large size OST file.
4:- It can provide broken images & attachments, emails in an unstructured format.
5:- You can use this process on multiple mailboxes.
2:- Technical and Easy Method:  When the requirement is not met by the manual process, a relevant program or third party tool is required. OST to PST Converter tool is the most effective software among the solutions in the market that easily retrieves all inaccessible and damaged OST files and migrates to Outlook PST file format. The software is capable of exporting offline OST files in PST file format with all data contents such as email, contacts, calendar, notes, tasks, attachments, etc. This single wizard application provides error-free results without damaging the internal data of the OST file.
Notable Features of this application:-
1:- Easily exports large sizes OST file into PST file format.
2:- Swiftly recovers all inaccessible & orphaned OST files.
3:- Compatible to exports multiple OST files into PST format.
4:- Maintains all internal folder structure, Text & HTML formatting, mail stuff, and meta properties.
5:- There is no need of MS Outlook for OST to PST migration.
6:- Support the entire edition of Windows & Microsoft Outlook.
The free demo version of this tool is also provided by SysBud which migrates the first 20 email items from each folder.
At last:- Freeware methods to convert OST files to PST file format are always in demand but it has some drawbacks. While the third-party tool takes half the time to migrate multiple OSTs to Outlook PST format. I have described all the available methods of OST to PST conversion. The user can choose any method that suits better and can easily convert OST to PST format.