Many users search daily to "How to take a backup of Gmail" to use offline email clients or convert emails. The simple answer is Google takeout. Now we need to know about Google Takeout which is a support program to provide a backup of Gmail.
What is Google Takeout?
Google Takeout is an advanced program which is developed by Google Corporation on 28th June 2011. It is used to download the data of any Google services like Gmail, Contact, Google Drive, Blogger, etc. This is a very simple way to manage your accounts data and other information in the zip file. 
There are some reasons to use Google Takeout:-
1:- Google offers to use their service free and access your data anytime anywhere if you have internet connectivity. But there is also a chance to track the emails or captured by the hacker.
2:-If you have a lot of messages or emails then you have two options:- (1) You can delete the old message for receiving the new emails. (2) You can purchase extra space to increase the size of the mailbox. Therefore, Google Takeout helps you to create extra space after taking a backup of Gmail in MBOX format.
3:-Due to any suspicious activity, Google can delete your account without any notice if you using it free. Now you have no other option to recover your Gmail data and stuff. With Google Takeout you can secure your mail, contact, calendar, and other materials. When you take a backup of Gmail data then you can also delete the emails for security purposes.
How to take a backup of Gmail?
1:-Search https://takeout.google.com in Google search bar and login with your email account.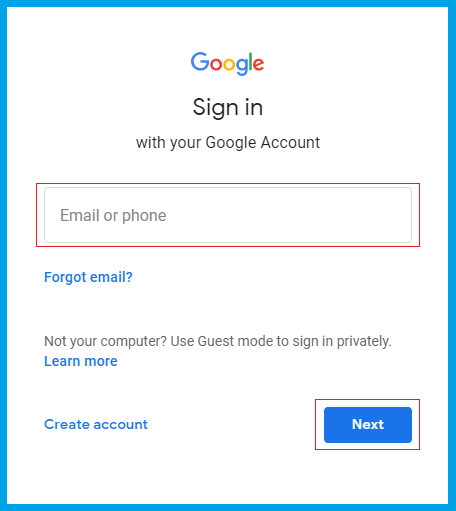 2:- Now unchecked all boxes using deselect the option and enable the Gmail checkbox.
(Note:-If you want to store only selected folder data then choose Mail content options otherwise click on MBOX format and go ahead.)
If you select MBOX format then it automatically selects all labels and creates a single MBOX file. While "All mail data included" option provides a selection to choose a label and then form an MBOX file.
Pick the desired labels and click OK then press next button
3:-Now you got three option to customize archive format that is:-
A:- Delivery method: -Here you need to select the default location where you want to get the download or save the link of your back-ups like Drive, One-drive, Dropbox, Box or Gmail Account.
B:-File Type:-Select the file format like .zip or .tgz. But most of the people like to select .zip format because .zip file supported in all Windows and Apple OS.
C:-Archive size:-Choose the 2 GB archive size because some old operating system does not support the latest version of the zip file when you increase the file size. In other perspectives, you can increase the file size up to 50 GB.
D:-Export Type:-Here you will get two option:-
Select one-time archive to download the data at once
OR choose the scheduled export option for every 2 months in a year.
4:-Now click on Create Archive to download the email data.
5:-Now a message will appear that an archive data of your mailbox is currently being processed and please wait some hour or a day to create an archive download link.
6:- After that, if you choose Google account then you will receive two emails in your mailbox:-
(i): – the First message shows that your request is submitted that is second email (Email –B)
(ii): – In the second message, It will inform you that the data archive is ready and you can download it now. (Email A)
Final Words:- Google Takeout is a service or medium for backing up Gmail in MBOX format, which is quite simple. After backup, you can import Gmail data to Thunderbird, Apple Mail, and other MBOX based email clients.